On the Pordoi Pass, a cable car trip becomes exciting
A new "signed" LEITNER ropeways system with the new Diamond XLine cabins
A cable car, the "GD10 Vauz – Pordoi", will replace, using the same track, a four-seater chairlift dating back to 1998, also originally made by LEITNER ropeways. An important innovation for the ski resort, with a significantly upgraded system, resulting in a reduction in waiting times, and an hourly capacity of 3,200 people; visitors will in turn be able to enjoy the journey to the slopes comfortably. Comfort will be ensured thanks to the new, more spacious Diamond Xline cabins, with the ability to carry skis directly in the cabins, storing them in the special interior ski racks.
Unbeatable efficiency and reliability
The new system is therefore characterised by comfort, increased capacity, but also particular attention to economy and silence thanks to the LEITNER DirectDrive drive system, the result of development activity undertaken inside the Vipiteno company. The core of the LEITNER DirectDrive consists of a synchronous motor directly connected to the pulley and is made up of three moving parts, the rotor and two bearings. This completely dispenses with the engine oil needed by traditional planetary gears. As the LEITNER DirectDrive works with fewer components and at a lower speed, the wear and risk of faults is considerably reduced. In addition to increased reliability, the system also ensures a significant reduction in noise emissions.
More time to get into the cabin
Even the point at which you board at the station in the valley has been subject to innovation. For example, the building has been lengthened, making it possible to further reduce the speed of vehicles at the terminal, facilitating easy and convenient entry into the cabins.
"The Pordoi society has decided to confirm its trust in LEITNER ropeways, having known for a long time the degree of reliability and technical solutions that have been refined over the years: a fully mature product that fits perfectly in the Sellaronda circuit, guaranteeing characteristic high quality and maximum approval from customers," says Giacomo Crepaz, president of Pordio SpA.
"It's a great pleasure for our company to have renewed its ten-year collaboration with the Pordoi Society SpA for the realisation of this new system, which represents the lifeblood for all ski-lovers who use the "Giro del Sella". Surely all skiers will appreciate our Diamond X-Line cabins, which offer passengers more space and more comfort," adds Giorgio Pilotti, Italian Commercial Director of LEITNER ropeways.
Work began in early September and will be completed at the end of November. A record time for an important new step forward for the ski resort on the Passo Pordoi.
INFOBOX: LEITNER ropeways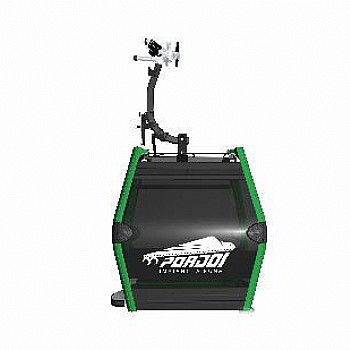 GD10 Vauz - Pordoi
Length: 2,224m
Height: 379m
Speed: 6m/s
Capacity: 3,200p/h
Number of cabins: 81
Number of staff: 14
PORDOI S.p.A.
Via Passo Pordoi, 16
32020 Arabba (BL)
LEITNER ropeways
Daniela Innerhofer
Marketing
Via Brennero 34
I-39049 Vipiteno
Tel. +39 0472 722 444
daniela.innerhofer@leitner-ropeways.com
www.leitner-ropeways.com
Maurizio Todesco
Contact
Via Brennero 34
I-39049 Vipiteno (BZ)
Tel. +39 0472 722 115
Cell. +39 335 772229
maurizio.todesco@leitner-ropeways.com
Share