Trek Tour Panorama
easy mountain mobility - hiking with the lifts
You can move freely, and let the lifts transport you to excursions which are suitable for everyone. Trek Tour Panorama will allow you to contemplate our magnificent mountains from above and to reach points of interest easily without using your car.
Scenic Views
When you find yourselves in the heart of the Dolomites, let the dreamlike scenery fascinate you with its breathtaking panoramas which can be enjoyed from the 2,000m of the Ciampedie, up to the 2,950m of the Terrace of the Dolomites on top of the Sass Pordoi.
Points of interest
Enrich your day by visiting interesting places, such as the Great War Museum, the bronze Eagle, as well as mountain lakes, waterfalls, and highly peculiar rocky formations, or by walking along fascinating and interesting themed paths.
Suitable for all
The possibility of reaching high altitude by cable car allows us to propose several easy hiking itineraries, which are suitable for the entire family and for those who are not used to walking long distances in the mountains, but who still wish to go hiking in the mountains surrounded by nature.
Our lifts
18 lifts, connected with each other, which are modern and safe offering panoramic views, will allow you to reach high altitude in just a few minutes. Panorama Pass and Dolomiti Supersummer are the tickets for unlimited access to all the lifts. You may also purchase one way or return tickets, as well.
* Hiking times on foot are indicated only one way to the proposed destination, since the return route can vary, including the use of the bus service (www.fassa.comor mobility map at the tourist offices).
Filter by location

L'AQUILA DI BRONZO from Pera di Fassa or from Vigo di Fassa
from PERA DI FASSA or from VIGO DI FASSA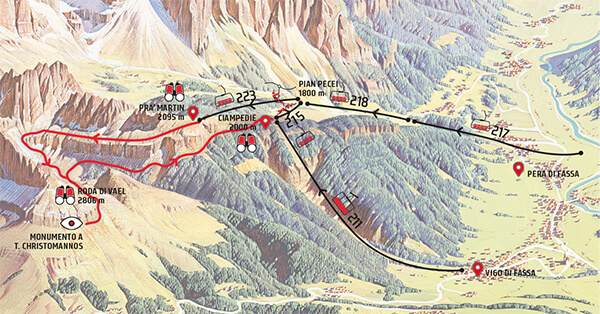 The "Vial de le Feide" path starts from Pra' Martin (2,095 m) and it takes you to Roda de Vael. You can comfortably proceed along the wide Hirzelweg path and thus reach the monument dedicated to Theodor Christomannos: a 3-meter-tall bronze eagle located on a panoramic position over the Fassa Valley and the Ega Valley. You can go back along the Alta Via dei Fassani path up to Ciampedie.
+

217 +

218 +

223 +

211 +

215 +

223
Pra' Martin - Roda de Vael
Monumento a Theodor Christomannos
ca. 2 ore + ca. 30 min + ca. 2h30
VAL JUMELA
from POZZA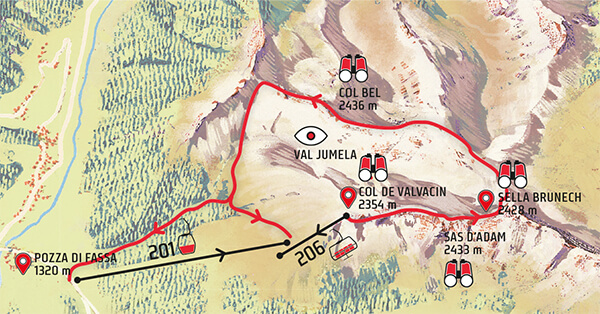 This excursion allows you to discover this magnificently lush valley which is rarely explored, where silence and peace are only interrupted by the cowbells of the Alpine pasture cows. At the bottom of the valley, you can enjoy some refreshments before heading back to Buffaure. You can go back to Pozza by cable car or alternatively you can hike your way back.
+

201 +

206 +

201
Col de Valvacin - Sas d'Adam - Sella Brunech
Val Jumela
ca. 60 min + ca. 75 min + ca. 60 min