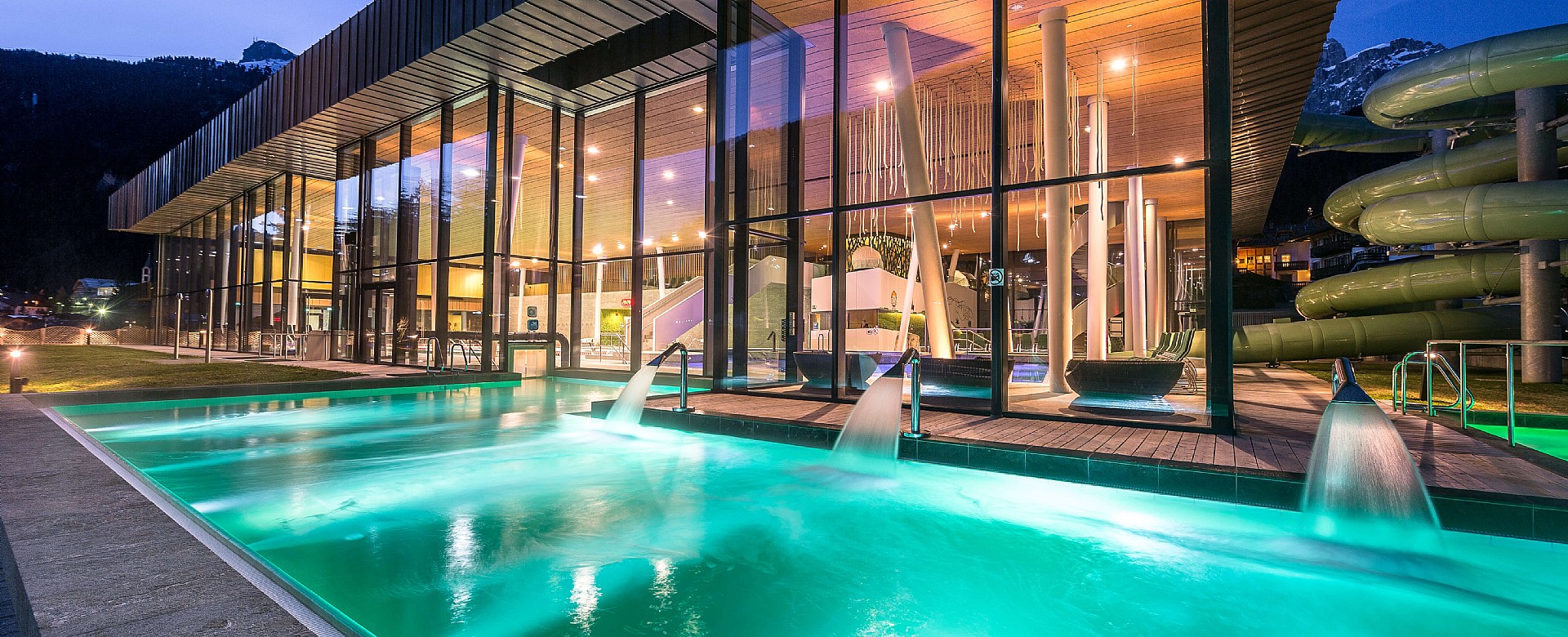 Dòlaondes
Relaxation, swimming pool, sauna, spa
Discover relaxation at a high altitude
Dòlaondes Water Centre
The new Dòlaondes Water Centre is just waiting to be discovered. Swim, dive, have fun, relax, feel good and restore yourself in the invigorating water that gushes from the mountains. The centre covers a total area of 2,400 square metres and is divided into 4 theme areas: Water & Fun, Eghes Wellness, Sport & Fitness, Eat & Drink. The name "Dòlaondes", literally "Follow the waves" in Ladin, is an explicit invitation to embrace the waves and water in Canazei's new water centre.
The imposing new facility actually brings the natural motion of water to mind. At "Dòlaondes", water takes on many forms and generates movement, sport, fun and well-being. The splendour of the mountains and the sheer beauty of the surrounding environment create a beneficial atmosphere of unique and rare significance. Dòlaondes is supplied by a continuous flow of water that proceeds in a one-way cycle. The mountain collects water from springs at high altitudes (where they quench the thirst of the chamois that live on grassy saddles high up in the Pordoi group), which then gushes down to Canazei where it becomes the driving force for the whole water centre.
The four "Dòlaondes" theme areas are facilities of the main structure and are descriptive of the various activities available inside: Water & Fun, the five pools; Eghes Wellness, well-being in all its many guises; Sport & Fitness, a state-of-the-art wellness facility and finally Eat & Drink, where refreshment can be obtained after an intense day of activity and relaxation in the water. Water, wellness, fitness and food: four separate facilities within the same complex, where the intention is to pamper guests with waves of well-being.
Relaxation
Built in 2000 and now linked to the new Dòlaondes water centre by a corridor, this facility was based on the ancient philosophy of bioclimatology used in the Roman thermae. It is divided into various baths able to turn to account the therapeutic qualities of water (hamman, hydro-massage, frigidarium, Roman bath, conifers, thalassotherapy, chamomile, tepidarium, relaxation area, Finnish sauna and bio-sauna), the secret of which was the health-giving force of the heat obtained from flows of hot air and water. In the centre, as extra services for the indoor pool, there are changing rooms, toilet facilities, reception area and hall, from which the well-being area is accessed via the changing rooms.
Gym equipped with the latest generation machinery for physical and indoor training.
Regenerate at the bar after an afternoon of swimming, purification in the sauna, the gym or simply relax after a long day of skiing or hiking.